Origins dating back to 1867
The name 'Barber Harrison & Platt' was first heard in 1970 when three long established firms of Sheffield accountants merged to form a new practice, boasting an accumulated total of m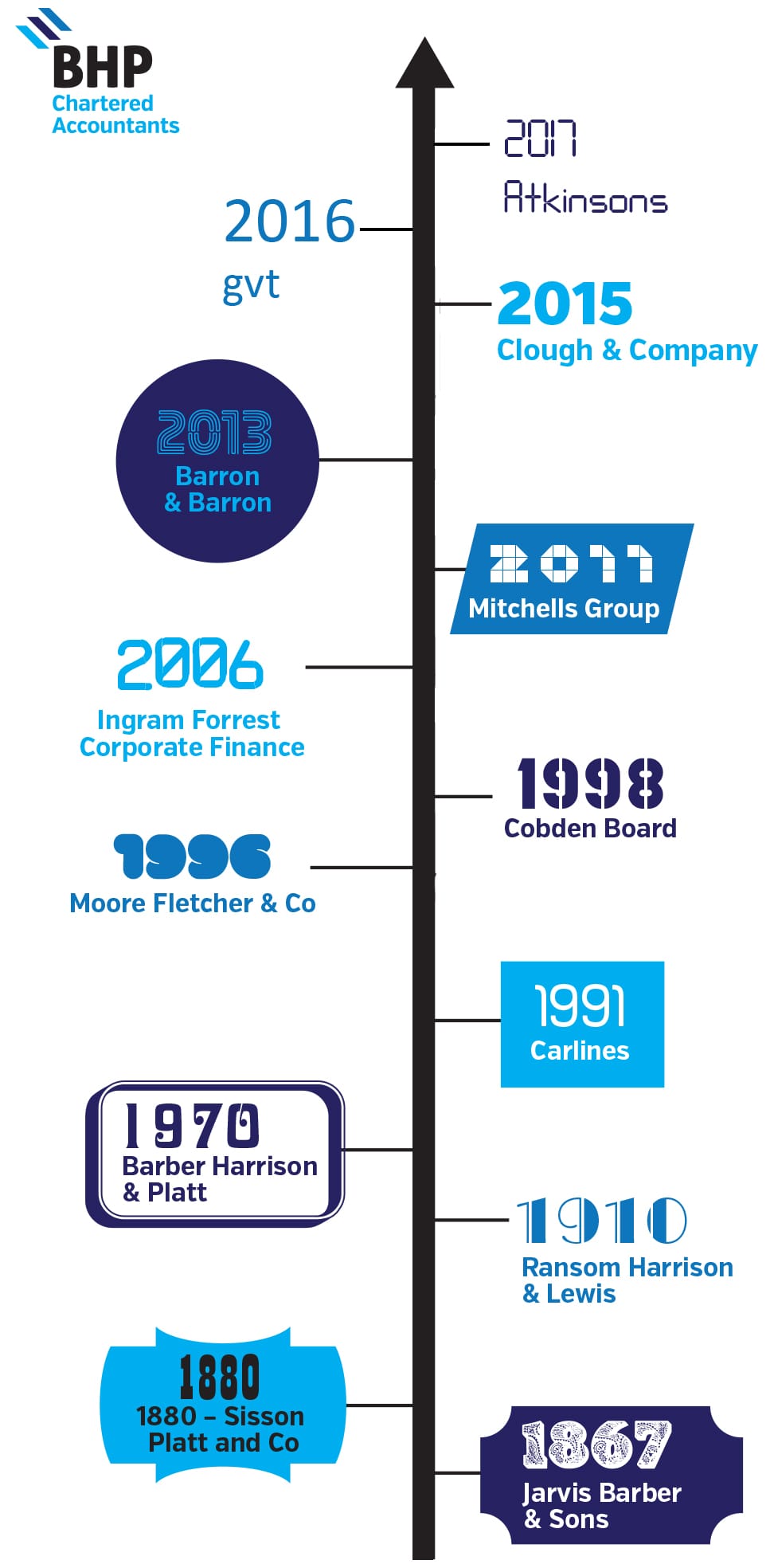 ore than 250 years' accounting experience and expertise.
The youngest of the three firms was Ransom Harrison & Lewis, founded in 1910 with Sisson Platt and Co. being formed in 1880. Jarvis Barber & Sons, the 'senior partner' so to speak, traces its history back to a practice formed in 1867.
Since 1970 the firm has grown and is now firmly established as one of the region's largest independent firms of chartered accountants. This position was strengthened in 1991 with the acquisition of Carlines one of Chesterfield's largest firms, the acquisition of Moore Fletcher & Co. in 1996, and in 1998 the acquisition of Cobden Board.
In 2006 the firm merged with Ingram Forrest Corporate Finance, giving us the largest and most experienced corporate finance team in the region including partners Stephen Ingram and David Forrest.
In 2011 the firm merged with Leeds and Harrogate based Mitchells Group. This has further strengthened the firm's position as the largest independent firm of chartered accountants in Yorkshire.
In 2013 the practice merged with York based Barron & Barron, strengthening the firm's specialist offering. Barron & Barron has specialist niches that fit in very well with our own expertise.  The additional services we can offer to both their existing client base and to other local businesses will enable BHP to build upon its reputation as the key independent business advisory firm in Yorkshire.
In 2015 BHP merged with Cleckheaton based Clough and Co, this landmark deal has created a regional practice with over 300 staff including 31 partners, across six offices. The merger also involved Clough & Company's Financial Services team who have now joined BHP Financial Planning Limited, whilst the two Firms' Corporate Recovery and Insolvency teams have combined to form BHP Clough Corporate Solutions. This merger has positioned BHP as Yorkshire's largest independent firm of Chartered Accountants and placed firmly within the top 40 largest accounting firms in the UK.
In December 2016, BHP merged with local Sheffield firm gvt Chartered Accountants.
BHP's longevity spanning over 150 years is testament to the firm's ability to anticipate, adapt and meet the changing needs of its clients and the business environment.
Our significant experience means that BHP is able to provide a full portfolio of integrated accountancy, business advisory, corporate finance and tax services.