Put your best foot forward
During the course of business, you may find yourself involved in a commercial dispute, despite your best efforts to mitigate your risk.  This could expose you to both financial and non-financial issues such as reputational damage, regulatory breaches, breakdowns of supply chain relationships as well as requiring significant management and employee time.
When it comes to quantification of the financial cost, we have wide experience of dealing with a variety of commercial claims, disputes and litigation, including:
Loss of Profit or earnings (e.g. Employment disputes)
Business interruption claims
Compulsory purchase orders and blight claims
Professional negligence claims (e.g. accountants, solicitors, financial advisers)
Contractual breaches (e.g. supply chain)
Unfair prejudice claims
Product liability claims
Competition matters
Intellectual property disputes (e.g. infringement and licensing)
Fee disputes
Defamation matters
Personal injury/fatal accident claims
Construction claims
We often act as an adviser and work with legal practitioners 'pre-action' to help clients understand the strength of their position, irrespective of whether they are a Claimant or Defendant, including private client, corporates or insurers.  We use our knowledge and experience to help formulate the strategic options, quantum of the dispute, and presentation of the dispute position, meaning clients are more informed during discussions and negotiations before formal proceedings. Similarly, we can also assist clients once formal proceedings have begun.
We can quantify losses in a variety of situations and, if appropriate, work alongside legal practitioners and other experts to support clients as a party expert, as well as provide expert evidence to Courts and tribunals.  We can also act as a Single Joint Expert.
We prepare structured and properly reasoned independent CPR/CrPR/FPR compliant (if required) reports with clear and transparent opinions, and have over 30 years' experience in giving evidence to Courts and Arbitral tribunals as well as representing clients in mediations and other ADR processes.
To discuss how our expert risk & forensics team could assist, either in general terms or in relation to a particular case, please call Tony Chapman on 0113 887 0070 or Philip Allsop on 0114 266 7171.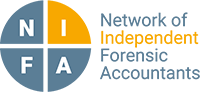 Meet the team to grow your business